July 5, 2019
India, the second most populated country in the world, has an average of 25-30 people migrating from rural areas to urban cities every minute. Many of these people migrate to find a better livelihood and lifestyle in the cities. As per 'Invest India', if migration from rural areas to urban cities continues at the same pace, the Indian urban population will reach 600 million by 2030. This transition will largely affect the scenario of urban India since many of these cities are facing a huge scarcity of basic resources like water, food, shelter, etc.
The term 'migration' in this context, refers to moving from one's hometown to another city, state, or country in order to grow economically and seek better lives. As per 'Census India' 45.36 crore Indians (37 per cent) in India are migrants, who are now settled in a place different from their previous residence. The migrant community in India faces many challenges, including the creation of new identities, health issues, education issues and exclusion that one faces in the new society. With that being said, many of the rural people who migrate to urban cities face difficulties in adapting to a new culture and language.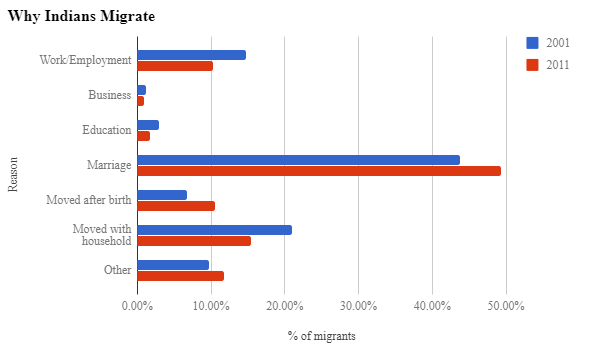 How can we combat migration to protect the locals?
People migrate to find a better life which encompasses earning a higher salary, living in a moderate climate and obtaining higher standards of living. Many of the people born in rural areas often do not see the opportunities available in their native regions and decide to move to bigger cities. This decision making is influenced by factors that fascinate them on the surface level. This includes experiences exclusively available in big cities such as better employment opportunity, good transportation system, malls to spend some time, parks to move around, etc. However, this can be combated if appropriate efforts are undertaken in the major portions of rural India.
Some of these required efforts that are being taken care of are listed below.
– Scientific development of Agriculture: The ubiquitous use of redundant farming techniques with the change in global temperatures has a negligible growth in agriculture. Employment of scientific and advanced future proof methodologies which consider climatic changes needs to be empowered in rural agriculturalists to secure, serve and promote farming for future generations.
– Development of social infrastructure: The Indian population is growing at a much faster pace than the development in the country. This results into the rapid need for development of transportation, communication, housing, education, toilets, etc. If the country can combat the prevailing issues, a healthier rural lifestyle can be achieved.
– Creation of better employment opportunities: India has a huge population engaged in farming, which stands as the second country in the world after China to produce maximum agricultural outputs.
If farming can be done with the use of enhanced equipment or machinery, then it can help families to live a better life. Farm production and distribution can also be channelized to ensure that they do not suffer losses in any situation.
Hosachiguru, a Bangalore based farmland management company, has been managing farmlands around Karnataka by creating ample employment opportunities for the local people. More so, hundreds of people have already been employed at different profiles while ensuring their economic growth which is equivalent to their growth in bigger cities. Additionally, these individuals also contribute their bit to the environment through their work.
Furthermore, these farmlands are available for potential buyers to purchase. While it offers them hands-on experience of farming practices, it is also a non-taxable secondary means of income that they can look forward to. To know more about Hosachiguru and its projects, visit page.
1090
0
0
cookie-check
Stay where you are! Stop migrating to cities