December 15, 2020
Author: Nihal Anand | Ruchi Renavikar | Pavithra BC
Does the concept of investing in nature excite you? Have you ever been interested in owning a farm land? Is buying farmland a good investment in a city like Bangalore?
Land as a commodity has many uses and features, however owning a plot of land brings with it a serious amount of paperwork and background checks. Legal formalities can be intimidating for some but once successfully completed, owning a managed farmland can be extremely rewarding and fulfilling.
Here's a list of the common pitfalls first-time land owners could be vulnerable to, and how we can help you bypass these mistakes.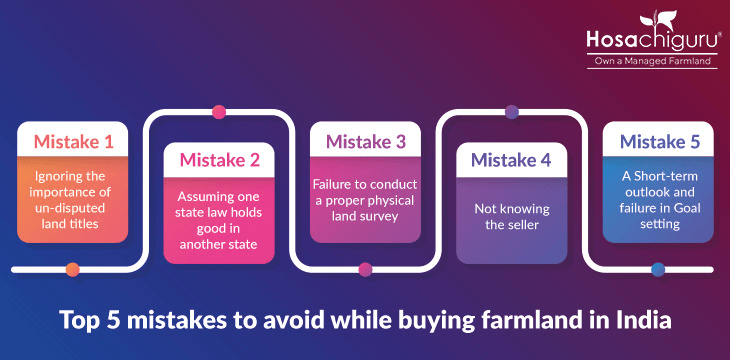 Mistake 1: Ignoring the importance of clear & un-disputed land titles
Checking the title of a farmland is the fundamental compliance that must be done prior to purchase. Not confirming the land's clear and marketable titles would lead to legal complications. It is important to ensure that there are no disputes over the title and area, as these would only add to the delay in acquiring the land. Farmland title verification should date back to a minimum of 40 years from the date of purchase. Title verification also includes the careful perusal of mother deed documents. All such verification procedures including existing claims, disputes and the classification of the land, are efficiently carried out by the legal team at Hosachiguru.
Mistake 2: Assuming one state law holds good in another state
Agriculture in India is a state subject, which means that different states have different laws. Not being aware of the agricultural laws of the state could lead to a different set of legal entanglements. Depending on the State in which the farm-land is located, Hosachiguru follows State laws in force and gathers all the documents required while conducting Land due diligence. On gathering all the necessary documentation, Hosachiguru establishes a clear land title. Documents and historical land use records are verified by government agents and lawyers to establish authenticity. Further to this, the land area and boundary is also verified with government survey records and physical verification.
Following is a list of the basic documentation required when doing land due diligence:
Title Documents
Encumbrance certificate
RTC – Record of Rights or Pahani
Mutation Extract
Family Tree History
Patta Book
Survey Documents which include: Survey sketch, Akarband Extract, Hissa Tippani Book Extract, Tippani, Phodi Extract, Hudbust Register Extract, Atlas & Village Map.
Conveyance Deeds
Khata Certificate
Grant Certificates
For more details on documentation please get in touch with us at [email protected]
Mistake 3: Failure to conduct a proper physical land survey and site inspection
Land is much more than its history. Not physically verifying the land could lead to a false assessment about the suitability of the land for agriculture. If you are looking for agricultural land for sale in rural Bangalore, just verifying the documents wouldn't suffice; actual physical verification of the land and its boundaries is also necessary. Hosachiguru conducts a physical verification of the land with the assistance of the surveyor and government officials, to provide utmost clarity regarding the legal status of the land. This helps in analyzing the boundaries and the nature of the abutting lands as well.
Mistake 4: Not knowing the seller 
One of the major purposes of extensive document verification is to trace the origin of the property. Tracing ownership should always begin with scrutiny of the earliest document recorded. For instance, if agricultural plots are up for sale in North Bangalore, knowing about the history of the land-owners would tell you about the history of the land-use itself. It is necessary to do this because you do not want to purchase the seemingly fertile land only to find out that it is located in an environmentally sensitive zone, or is under dispute. The historic use of the land is taken into account before it is acquired by Hosachiguru.
Mistake 5: A Short-term outlook and failure in Goal setting 
For many, investing in agricultural land is just about experiencing farm life and connecting with nature. However, it is important to remember that it is still an investment you are making into the future; An investment in sustainable farming, an investment to grow your assets and finally an investment in the community and the planet.
Goal setting is often taken very lightly by agricultural enthusiasts. Not setting goals can lead you down a path of uncertainty and disappointment when you don't get the returns you expected. Setting goals when investing in farmland is highly dependent on the type of ROI you wish for. If you are specifically motivated by long-term ROI then investing in Agroforestry, will bear you a sweet fruit in the years to come. ROI from harvesting timber can vary between tree species, but on an average takes 15-18 years. Trees create a living ecosystem that is supportive and highly biodiverse. The benefits of growing crops and trees in combination are multiple in terms of improving your soil and water quality.  Hosachiguru has created an opportunity to own managed farmlands focused on the agroforestry model that also protects indigenous biodiversity.
1096
0
0
cookie-check
Top 5 mistakes to avoid while buying farmland in India