July 16, 2019
The real estate boom in most tier 1 cities across India is gradually tapering down and the extraordinary growth one saw over the last 20 years ago is more or less leveled. There is an over-supply of apartments and rentals are not as attractive but for a few localities. Residential plots are available in plenty and people are not hurrying to book and purchase them as they did a few years ago. There are too many satellite towns – Tumkur, Chikballapur, Doddaballapur, Ramanagar etc. RERA has swung in bringing the much-needed regulation governing both buyers and developers. Genuine investors now need to look for newer opportunities to protect and grow their investments. Farmland can be a realistic option and here are the reasons why.
To begin with, let's consider an apartment and its rental potential today. Hypothetically speaking, one would have to invest approximately Rs.70 to Rs. 80 lakh in an apartment only to expect a rental income of around Rs. 25,000. And the property only depreciates over time as the value of the building depreciates, which eventually nullifies the land appreciation.
Coming to plots, communities have to migrate and settle down in layouts in order to enhance their value. Often, the first disadvantage is connectivity. Mr. Siddalinga, a friend of mine had bought a 1600 sq.ft. land for Rs.28 lakh in the outskirts of Whitefield in 2012. However, the layout hasn't witnessed any major rise in price since then considering its poor connectivity to main roads and proximity to social infrastructures. The land has appreciated by just 20% which Mr. Sidda never expected when buying the land. Hence value appreciation enough to meet investor expectations is circumspect. The worst part about plotted developments is that many owners just buy the plots and there is no maintenance of common areas. The roads and drainages need an upgrade as extensive damage has been caused to them and other infrastructures due to construction of houses. Hence, after a few years, people looking to buy plots do not find the development of the layout great and look for newer layouts with better amenities. Though the development expense is not as high as development of an apartment, it can still range from 20-50% of the cost of the plot.
Now, coming to farmlands and what they offer.
Farmlands are free from taxes
There is scope to grow crops and try to monetize the investment, even factoring for the vagaries associated with a yield
The income so generated is tax-free as it is agri-income
You have a getaway home for you and your family to relax and do things unhurried
Last, but not the least, you will always benefit from the appreciation of the asset explained below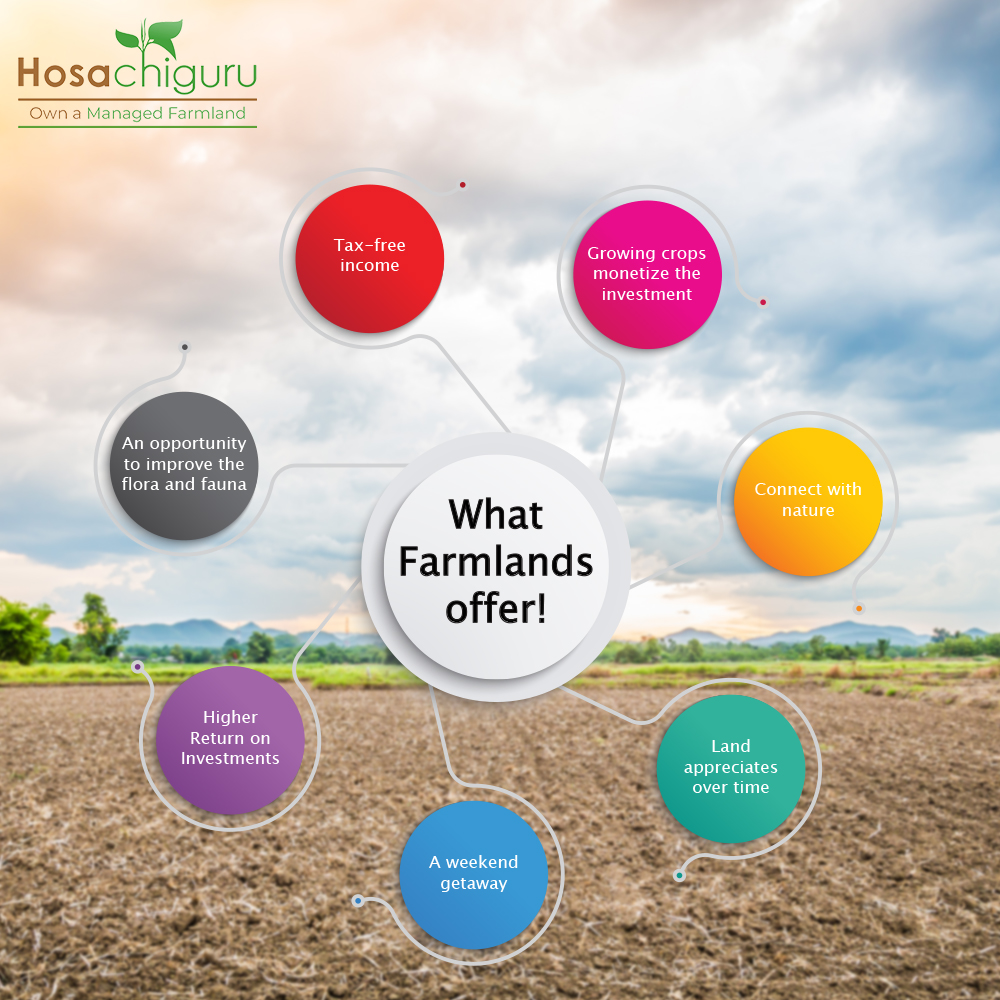 While there is retardation in growth/ boom story of megacities, several smaller towns are experiencing brisk growth. This does increase the value of land in those areas. An investment in a farmland in and around any of these towns/ districts offers a much higher potential in terms of ROI in the long run. However, this is possible when the land is well managed and can be done by the new purchaser without having the hassles of managing the land that would be liable.
Your first step would be to identify a good, established partner to ensure the clear land titles, the legality of the project and the company's ability to manage the farmland and deliver returns. Something we can assure you of at Hosachiguru.
Hosachiguru is managed by a highly-experienced and professional team of specialists, scientists, project managers, and supply chain experts dedicated to deliver expected outcomes in agri projects. We address and clear all legal requirements ensuring you of a safe investment to offer you what can potentially be the best possible return option in both the short and long term.
As for our expertise in agri-management, we have experience in growing a variety of timber crops such as Melia Dubia, a promising tree highly suitable for generating higher income in semi-arid regions, teak and sandalwood, a highly profitable proposition in the long run.
So, if you wish to explore a newer, greener opportunity in doing something disruptive, eco friendly and profitable over time, farmland is a great choice, one you could consider for success.
1099
0
0
cookie-check
Is investing in farmland really a Smart idea?