July 26, 2023
Author – Arun Kumar
Experience the poetic essence of Hosachiguru's mission in this heartfelt composition by our esteemed Director & Co-founder, Mr. Sriram Chitlur. With each verse, he beautifully captures the essence of what we do at Hosachiguru, transforming barren lands into flourishing havens of life.
From barren land, our journey starts,
An empty canvas, waiting for parts.
Farm Trails, Avenue plants and Fence,
Adding value, So it makes sense.
Soil enrichment and water harvesting too,
Drip irrigation and power that's true.
With machaans, retreats and gardens bright,
Our Managed Farms are truly a sight.
Growing diverse trees, in harmony they thrive,
Adding value, oxygen, and so much more alive.
From fruit to timber, they bring incredible worth,
To the planet and owners, for joy and mirth.
The sun beats down, the rain pours in,
Weather challenges we face with a grin.
But we endure and work hard each day,
To create a farm that's here to stay.
Like a diamond, we refine and create,
A community sustainable, our pride, our fate.
The strength and beauty of a little sapling and how it thrives when nurtured, mirroring the essence of nature itself. It's a testament to the success Hosachiguru has achieved as an organization.
At Hosachiguru, our team of passionate and dynamic individuals is dedicated to offering a greener future and aligning with nature. Our work culture is truly remarkable, fostering inclusivity, fun, and encouragement. It's a place where we feel inspired to give our best every day.
We prioritize keeping our Co-Farmers well informed and ensuring that we always deliver the best to them. Our ultimate goal is to help people fulfill their dreams of owning a farm and living a life of abundance surrounded by greenery.
Within Hosachiguru, we have various teams working in harmony to provide exceptional services to our co-farmers. Our legal team ensures the safety and security of their land, while the design, tech, hospitality, agronomy, sales, marketing, customer support and procurement teams collaborate seamlessly to deliver top-notch solutions on time.
Conclusion
Creating farmland and bringing nature to people is no easy task. It requires tremendous effort and expertise. But as a Hosachiguru hive we are committed to going the extra mile. Our wealth of experience guides us as we work tirelessly to make the wonders of nature accessible to everyone.
It perfectly complements our mission of being deeply rooted in nature and practicing sustainable methods. At Hosachiguru, we strive to provide our customers with a fulfilling and enriching experience, making their journey with us truly remarkable.
Linkedin Profile: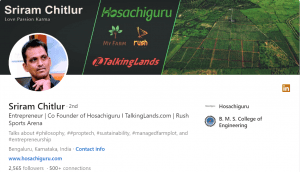 Linkedin post: Read the poem on LinkedIn